(East Arkansas Broadcasters, Inc.)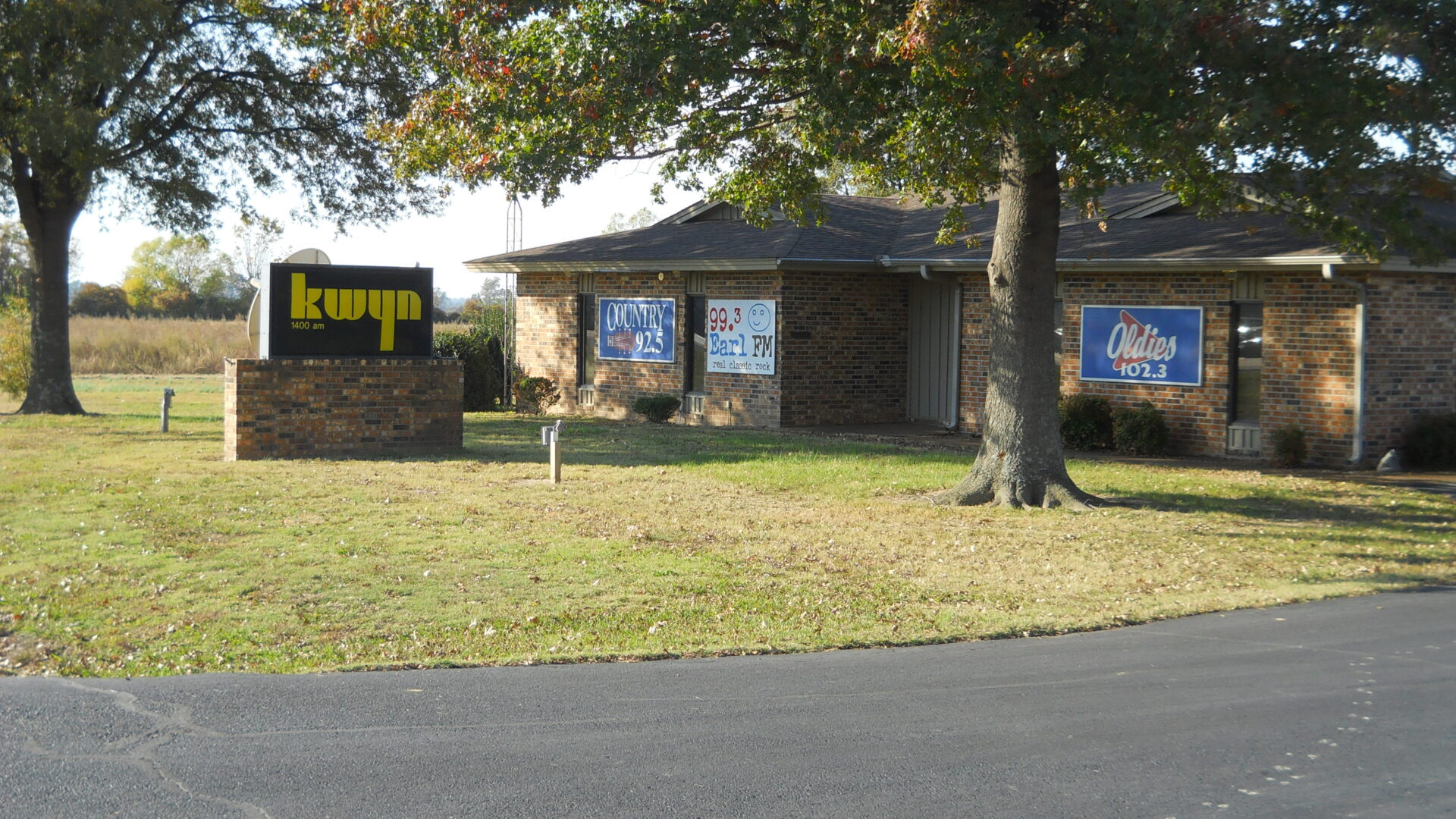 KWYN-AM 1400 went on the air September 28, 1956 at 250 watts and has now grown to 1,000 watts full-time. KWYN was established by Raymond O. "Bud" and Hannah Raley, originally from Paragould, Arkansas. Bud also originated the phrase "City With A Smile" that has been the official slogan of the city of Wynne and is on the welcome sign to town. There were several people vying for the 1400 frequency at the time, including Sam Phillips, the founder of Sun Studios and Sun Records who also discovered many new recording artists, among them, Elvis Presley.
The station was originally located on what is now Falls Boulevard between the current Popeye's and Auto Zone locations and across from Addison Shoe Company. KWYN signed on the air in time to broadcast the Wynne vs. Marianna football game and has broadcast Wynne Yellowjackets Football games ever since. The radio station has also grown to broadcast Yellowjackets Basketball, Baseball and Softball as well as Arkansas Razorbacks Football, Basketball and Baseball and Arkansas State University Football and Basketball. KWYN-AM 1400 is the oldest network affiliate of the Arkansas State Radio Network.
Since 1958, KWYN has also awarded the now KWYN/Bud Raley Award Outstanding Wynne Senior Football Player.
KWYN also has the longest running talk show in the Mid-South with its Yawn Patrol program and has consistently been one of the highest rated AM stations in the United States. Numerous guests have appeared on the Yawn Patrol program including local residents and famous guests, such as President Bill Clinton when he was governor of Arkansas.
Being a reflection of the ocmmunity has been very important to KWYN. The station hands over the airwaves each year for the Rotary Club Radio Day. This event raises thousands of dollars for the local Rotary Club by selling advertisements. The Red Cross, Children's Hospitals and numerous charities have benefited from radiothons and fundraisers over the years.
KWYN has been an official National Weather Service reporting station since 1956. The station has taken pride in being the primary source for local news, weather and sports information and being the local voice of the community. Being on-air during severe weather events has been critical in savings lives.
On May 15, 1969, KWYN-FM 92.7 went on the air with 3,000 wattts. Eventually, KWYN-FM would change frequencies to 92.5 FM and expand to 50,000 watts reaching not only east Arkansas, but also west Tennessee and north Mississippi.
With the passing of Bud Raley in an auto accident in 1966, Hannah continued his vision, commitment and dedication to Wynne and Cross County. Today the ownership remains in the same family with the third generation.
East Arkansas Broadcasters has grown to include thirty radio stations, 20 translators, and 3 regional broadcast networks.
A partial list of former KWYN full-time or part-time employees: Earl Hodges, Curtis Hodges, Mike McCormick, Skip Wallin, James Reedy, Dennis Rogers, Harry Fondren, Jr., Roy Davis, Bonnie Hunter, Bill Dugan, Steve Chapman, Lara Talley Brawner, Keith Humphries, Keith Powers, Tom Holbrook, George Horne, Van Spence, Neil Beaton, Neil Killough, Tom Gurley, Harold McMickle, Tim Hess, Rob Futrell, Chuck Comer, Don Dowdle, Gary Mallow, Colin Futrell, Jeff Corbitt, Irvin Sisk III, Rob Hopper, Clara Baus, Bill Goodwin, Ben Fry, Raydene Davis, Mike Courtney, Steve Gadberry, Jimmy Livengood, Gloria Thomas, Laura Ragan, Rob Horne, Les Ross, Mike Reynolds and Will Oswalt.
Onalee Brawner was the first employee hired at KWYN as the Traffic Director/Office Manager before the station went on the air. Art Rogers was the longtime Engineer/News Director and Co-host of Yawn Patrol. Ken Bock was Sales Manager and Co-host of Yawn Patrol.