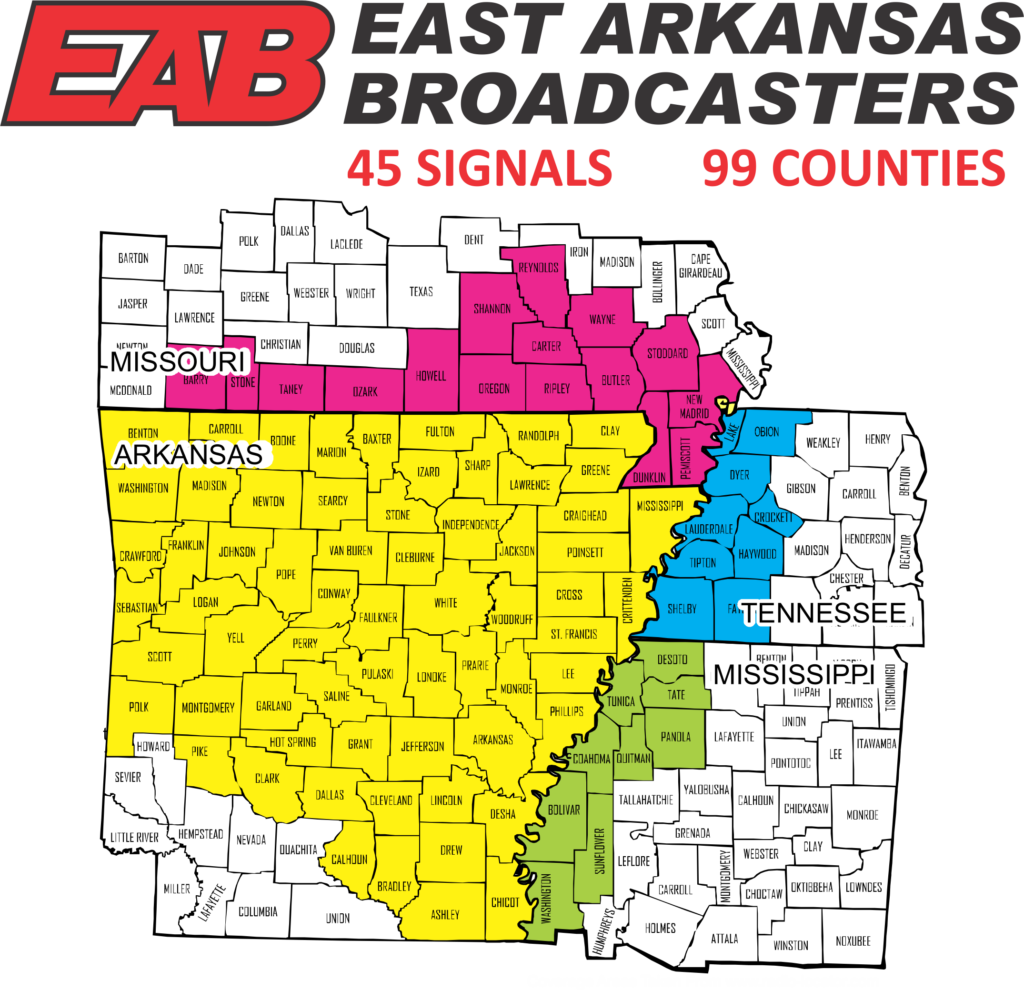 EAB (East Arkansas Broadcasters) is the largest individually-owned group of stations in Arkansas, with 45 signals covering 99 counties in East and Central Arkansas, in addition to the Missouri bootheel and portions of West Tennessee and Northwest Mississippi. KFIN FM, located in Jonesboro in Northeast Arkansas is the 100,000-watt flagship station of both the EAB Ag Network and the EAB Sports Network.
Our family of signals:
Jonesboro – KFIN 107.9 FM (Country), KIYS 101.7 FM (CHR), KWHF 95.9 FM (Classic Country), KIYS HD2 94.1 BOB FM (80's…90's…& Whatever!), KNEA 970 AM/96.9 FM/95.3 FM (Sports Talk), KBTM 1230 AM/101.3 FM (News Talk)
Wynne/West Memphis – KWYN 92.5 FM/95.5 FM/100.1 FM (Country), KWYN 1400 AM/102.9 FM/106.9 FM (Classic Country/Talk), KTRQ 102.3 FM (Oldies), KCHR 107.3 BOB FM (80's…90's…& Whatever!), KBRI 104.1 FM (Sports Talk)
Stuttgart/Dumas – KDEW 97.3 FM (Country), KXFE 106.9 FM (Country), KWAK 105.5 FM (Classic Country), KOTN 102.5 FM (Classic Country), KWAK 1240 AM/102.7 FM (Oldies), KVLO 101.7 Jack FM (Hits)
EAB also owns and operates the Stuttgart Daily Leader, the local daily newspaper for Stuttgart, and the Arkansas Grand Prairie.
Russellville/Morrilton/Clarksville – KCJC 102.3 FM (Country), KWKK 100.9 FM (Hot AC), KCON 99.3 FM (Rock), KYEL 105.5 FM (Rock), KCAB 980 AM/97.1 BOB FM (80's…90's…& Whatever!), KARV 101.3 FM (Contemporary Christian), KARV 610 AM/93.1 FM (News Talk), KWXT 1490 AM/98.1 FM Southern Gospel, KVOM 101.7 FM (Country), KVOM 800 AM/92.5 FM (Oldies), KXIO 106.9 FM/96.7 FM (Country).
Pocahontas/Walnut Ridge – KPOC 104.1 FM (AC), KPOC 1420 AM (ESPN Sports), KRLW 1320 AM/103.1 FM (Oldies)
EAB Sports Network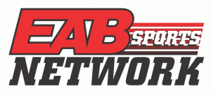 The EAB Sports Network is the official broadcast partner of Arkansas State University in Jonesboro, AR, and Arkansas Tech University in Russellville, AR. ASU Red Wolves Football and Mens Basketball games air on 16 statewide network affiliates, which include both EAB- and independently-owned stations. The ASU network grows each year and includes stations in Little Rock, West Memphis and the flagship station, 107.9 KFIN FM in Jonesboro. The EAB Sports Network also carries high school football games for eighteen teams on EAB-owned radio stations throughout East Arkansas and Central Arkansas.
EAB Ag Network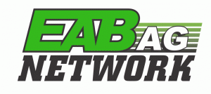 The EAB Ag Network is the most immediate and dependable source of agriculture market information and farm news in Arkansas, and has more farmer listeners than any other network in the state, according to Ag Media Research. EAB Ag carries seven reports daily, along with local 20-minute weather guarantees, across 62 signals in East Arkansas and the Arkansas River Valley. The network's outstanding row crop coverage includes 100% of the state's soybean, rice, corn, and cotton acreage. We invite you to learn more about the EAB Ag Network here.